Cast Iron Radiators
April 30th, 2015
Here at Warmrooms have a wide range of cast iron radiators for sale from our UK based showroom.with suppliers such as "The radiator company" "Apollo" and "MHS". These traditional style radiators are floor mounted and come supplied with a wall tie to give added stability.
Cast iron vintage styled radiators
Classically styled the cast iron radiators give a vintage look to any room making them the ideal radiator if you are giving your home a vintage style makeover.
They're designed with elegant integral legs and replicate the vintage style with a classic design that will stand the test to time.
These new radiators are now more efficient and most of our products come with a 10 year guarantee for absolute piece of mind.
Most of the cast iron radiators can be supplied as small as only 200mm wide (plus valves) so you can find a suitable option for even the narrowest of spaces.
Reproduction cast iron radiators
From victorian scrolled relief patterns to ornate designs georgian designs these radiators are perfect for a period restoration to add style to your home.
Our cast iron radiators are generally supplied in either a black or white primer but many RAL colour finishes are available as well as a hand polished finish. Cast iron radiators do take a little longer to heat up but at the same time take longer to cool down when your central heating system is turned off.
Remember – Cast Iron radiators are heavy so do lift correctly!

Our range of radiator valves include manual radiator valves, thermostatic radiator valves and traditional radiator valves. Traditional radiator valves will fit all radiators but are generally bought to compliment a traditional radiator such as our column radiators or cast iron radiators
Radiator valves are available in chrome, brushed satin, black, white, antique copper, antique brass, polished brass, satin nickel and polished nickel and offer a great finishing touch to your vintage makeover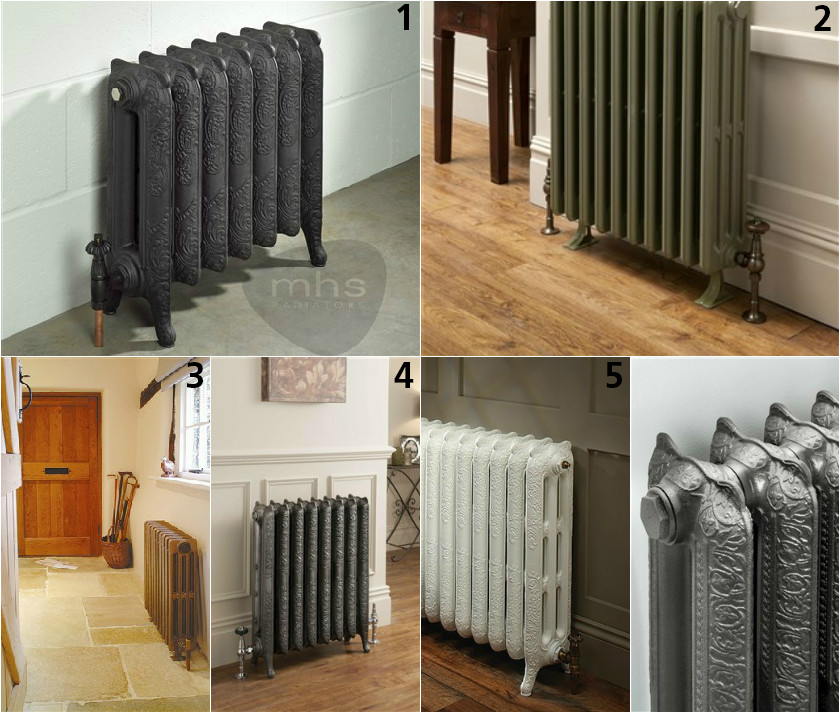 1. MHS Liberty electric traditional cast iron radiators
The scrolled relief patterns and Victorian looks transform it from humble radiator to a stunning reproduction centrepiece. The high quality cast iron radiator will complement most styles of decor. The footed end sections are supplied as standard as are wall ties, although you can choose for the product to be wall mounted only.
Prices from £665.28
2. The Radiator Company Telford 2 Column Cast Iron Radiator
The epitome of traditional heating, cast iron radiators are a must for any period property/restoration, suitable for every room in the house. The round top sections of the Radiator Company Telford 2 Column feature a solid centre between the column, providing bigger outputs and a more robust style. Available as standard in a white primer ready to be painted.
Prices from £38.45
This traditional radiator gives both elegance & style to traditional houses. Perfect solution for replacement of traditional radiators or new build. The Firenze comes complete with wall stays and floor supports (floor supports adds 65mm to the overall height). 10 year guarantee.
Prices from £67.50
4. The Radiator Company Trieste Burnished Cast Iron Radiator
Suitable for living rooms, bedrooms, kitchens, hallways and dining rooms. The original detailed, ornate designs of the Trieste bring a touch of Georgian splendour to your home. Available in a beautiful, high lustre, polished finish. Created by hand in the UK, an initial matt black paint is used to protect hidden.
Prices from £794.88
5. The Radiator Company Trieste 2 Column Cast Iron Radiator
Sold by section this classically ornate radiator features detailed engraved ears complete with footed end sections. Available from stock in White Primer ready to be painted or choose from a wide choice of RAL colours (lead time and price increases). These radiators are available from stock up to 10 sections in length, if you wish to have longer please also add the joining tool. Complete with a 10 year guarantee.
Prices from £187.20